J58 - Cabinet Coin Restrike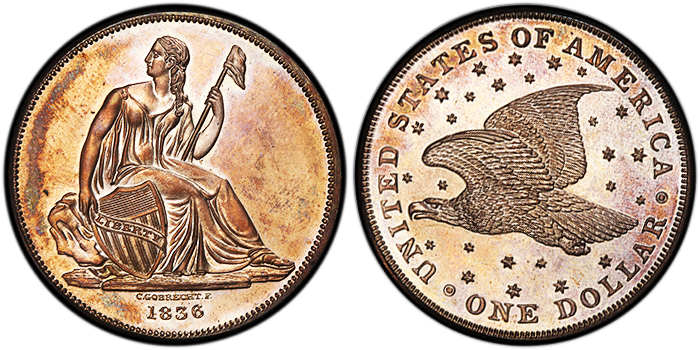 1836 Name Below Base, Starry Reverse, Plain Edge, Alignments IV and III, Silver
Research by Dannreuther, Teichman, and Sholley has shown that the Name Below Base obverse is a total fabrication!! Overlays and remnants of the name on the base visible on well struck coins show that the obverse die was manufactured in 1858 or 1859, just before the first striking of these pieces, from the 1836 Name On Base master die or a leftover 1836 Name On Base working die. J58 is thus not a "restrike" of an early 1836 pattern, but rather a completely fictitious creation! It is thus the ultimate Cabinet Coin – a contrivance to fool collectors into paying a high price for a "very rare pattern".
J58's were struck in both alignment IV and III, with States A and State B in alignment IV and States C, D, and E in alignment III. There are perhaps two dozen known, with a majority of those being alignment III. The Korein collection had six, two in alignment IV and four in alignment III.
Alignment IV
Alignment III
Check the photos and descriptions below and click SELECT to determine the die state. The state you select will highlight in yellow. Since the die states are all very similar, make sure you double-check the other state photos.
As with all restrikes, J58 was struck with Starry Reverse B ("The Cracked Reverse").