J84 Original and Restrike Die State Determination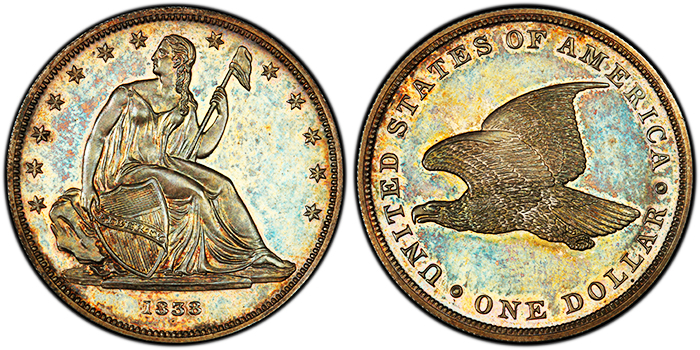 Original and Restrike J84's were struck in both alignment IV and III. You can differentiate based on the rusting seen on all restrikes. Restrikes show clear rusting on Liberty, especially the arms and upper body, and on the eagle. Pay particular attention to the eagle's beak and tail feathers. These will be very smooth and free of rust on Originals, whereas Restrikes will show definite graininess (see photos below).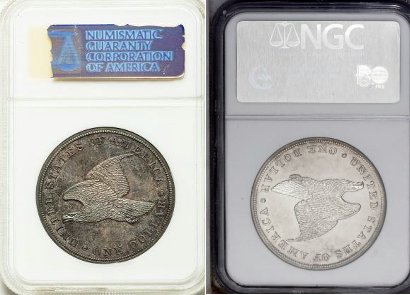 Alignments IV (left) and III (right)
Originals - clean, smooth eagle and letters
Restrikes - rusty, granularity eagle and letters
Note that a major discriminator for Original versus Restrike is the appearance of the eagle and letters. Originals have a very smooth, clean eagle (especially the head and beak) and letters. Restrikes all have the eagle and letters very granularity and rough from the rust. Pay particular attention to the beak. Restrikes also typically show strong mirrors with prominent polish lines.
There are only TWO currently confirmed J84 Originals - the Smithsonian/Mint Cabinet piece in alignment IV and the ANS/Eliasberg specimen in alignment III. Given the rarity of J84 Originals and the difficulty of establishing definitive die state markers for Originals, please contact Craig Sholley and/or John Dannreuther if you think you have an Original.
Check the photos and descriptions below and click SELECT to determine Original versus Restrike and the die state. The state you select will highlight in yellow. Since the die states are all very similar, make sure you double-check the other state photos.